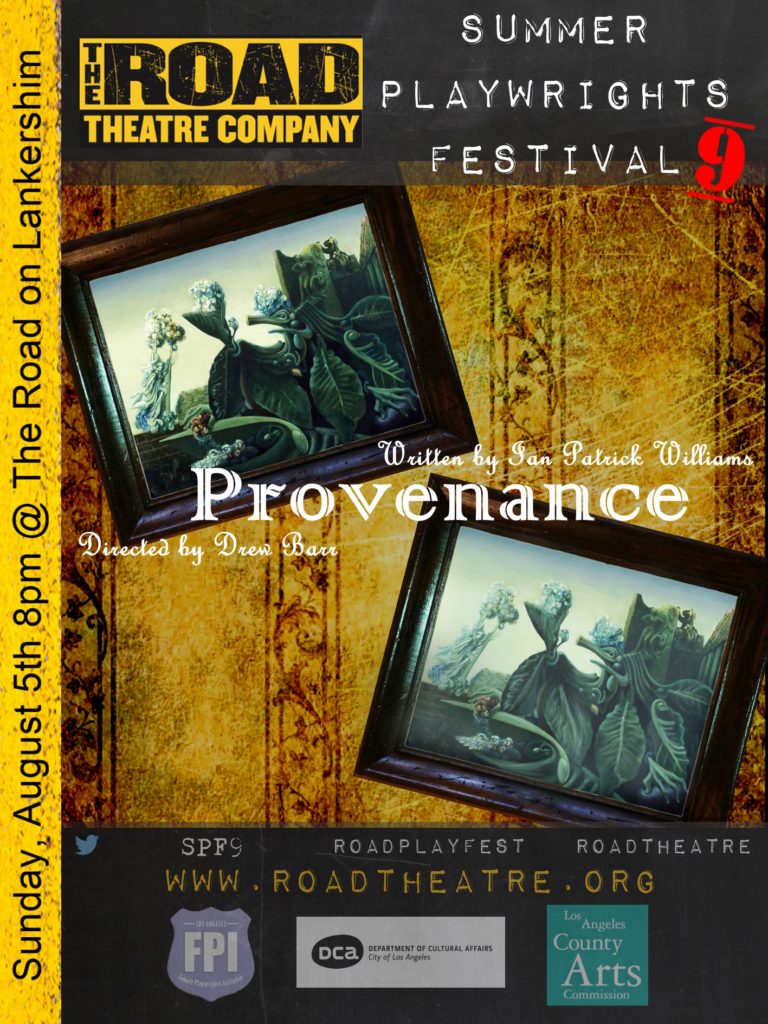 Provenance by Ian Patrick Williams
Sun, Aug 5th @ 8PM
Written By Ian Patrick Williams
Directed By Drew Barr
LOCATION
The Road on Lankershim – GALLERY
5108 Lankershim Blvd
North Hollywood, CA 91601
(Street parking or paid lot parking at 5125 Lankershim Blvd)
Provenance
By Ian Patrick Williams
Directed by Drew Barr
CAST
ALDO BRANZINI- David Gianopoulos*
BENJAMIN COX – Justin Okin
*Appears courtesy of Actor's Equity Association
SYNOPSIS
A near-homicidal art collector confronts a forger when he realizes the painting he bought at auction is a fake.
TICKETS
No reservations or advance tickets. Admission is by donation ($15 suggested).
MEET YOUR PLAYWRIGHT
IAN PATRICK WILLIAMS As an actor, Ian Patrick Williams has almost 100 professional TV and film credits. As a writer, he shared the Chicago Emmy award for co-authoring the PBS teleplay BLEACHER BUMS, which was later adapted and produced as a M.O.W. by SHOWTIME. After moving to L.A., he worked for the not-for-profit Enrichment Works, writing and directing seven one act plays that toured the LAUSD school systems. His short play NORMAL SHNORMAL won the first place Gold Quill award at the 2017 Tehachapi One Act Festival. The film GANGSTER LAND for which he wrote the screenplay was recently released by Status Media Entertainment.
MEET YOUR DIRECTOR
DREW BARR has directed for theaters across the United States and around the world. He directed international premieres of War Horse for the National Theatre of London, after serving as the Resident Director for War Horse on Broadway. Other New York credits include the Off-Broadway premieres of Neal Brennan's solo show, 3 Mics, Adam Bock's The Typographer's Dream and Karl Gajdusek's Greedy. Previously for The Road, Drew directed a reading of Wendy Kout's My Town. Drew has directed for Sci-Fest LA and Adler Fest and is on the faculty of USC and AMDA.
---
An Interview with Playwright Ian Patrick Williams
1: What is the name of your play?
PROVENANCE
2: What was your first job in the theatre?
Taking over the role of Dale Harding in a production of ONE FLEW OVER THE CUCKOO'S NEST
3: Do you ever model characters after real life people?
Yes. The role of Aldo Branzini in PROVENANCE is loosely based on an actual German art forger.
4: As an artist, what subjects tend to draw your interest?
I'm very eclectic. I've written after-school plays about Albert Einstein and King Tut's Tomb that toured the LAUSD circuit; short plays about elder health and the fracking industry; and screenplays set in the roaring 20's and Weimar Germany.
5: Do you have other passions aside from playwriting?
I graduated from Chicago's Goodman School of Drama and have been a professional actor for 40 years.
6: Are you currently working on any new projects?
A sequel to my detective novel A.I. P.I. www.amazon.com/dp/0692321810
7: Here's a fun question! What is your favorite dessert?
Whenever Häagen-Dazs ice cream is on sale, I stock the freezer so whatever I'm in the mood for in the future, I'm covered.
8: Any acknowledgements or words of encouragement?
We all hear 'no' a lot more than 'yes'. Don't let the bastards get you down.
9: Describe your play in 3 words!
Art, Commerce, Satire