Under Construction 3 Playwrights Group Announcement!
Under Construction 3
"The Play You Want is a product of The Road Theatre Company's playwriting workshop, Under Construction. I don't know their formula, but whatever's happening in this new work incubator at The Road is clearly working: The Play You Want opens its 30th Anniversary Season with a bang."  Stageandcinema.com
Continuing the success of Under Construction 1 & 2, Carlyle King, Jessica Broutt, and Mackenna Goodrich went on a search for the playwrights for Under Construction 2022 (UC3).
The Road is proud to begin its third year of Under Construction, a playwright's group that develops socially and politically relevant voices and thoughts for the American stage.
The goal of Under Construction is simple: to leave with a deeper knowledge of playwriting through collaborating and sharing with one's peers, and for each participant to create a new piece that is workshop ready. Playwrights are given live readings of their plays in our state of the art theatre on Magnolia. Initial drafts will be read by fellow playwrights, but participants in this program will also have access to The Road's ensemble of theatre artists for private & public readings, as well as support from the Artistic Team at The Road.  We are also pleased to announce that "The Play You Want" by Bernardo Cubria, developed in Under Construction 1 will open our 2022 season.
With over 250 submissions from across the country, we are excited to introduce you to the playwrights of UC3.
Adam Hunter Howard [he/him], a Los Angeles native, is a playwright, educator, and actor. He is thrilled to join the Road Theatre's Under Construction 3 cohort, working on his newest play, Feast. His play, Headwind, a harsh look into the privilege of selective college admissions at independent private schools, was selected for the IAMA Theatre Company's New Works Festival in 2019, and his play, Aine, an adaptation of Sophocles, reset amidst "The Troubles" in Northern Ireland, premiered at the Edinburgh Festival Fringe. As an actor, Adam was most recently featured in the role of Leon Czolgosz in Assassins at the Pico Playhouse. He has also performed at the Williamstown Theatre Festival, with the Antaeus Theatre Company, and at various venues in Los Angeles, Austin, and Edinburgh. Adam has been an educator for twenty years, working as a Drama teacher, English teacher, and college counselor. His most valued accomplishments, however, are his two young sons – Andrew and Max. MFA: The University of Texas at Austin, BA: Kenyon College.

Alison Minami is an LA based writer, performer, and educator. She holds an MFA in Creative Writing and Writing for the Performing Arts from UC Riverside. She is a member of the playwriting labs at Antaeus Theater, Company of Angels, and East West Players. Her play Face to the Sun has had professional readings at the Torrance Cultural Arts Foundation, East West Players, the Victory Gardens Theater, and at the Oregon Shakespeare Festival. Her play Dear Baby X was chosen for the Alliance of Los Angeles Playwrights' New Works Reading in conjunction with East West Players. Her play Urban Scholars was a semi-finalist for the Ashland New Play Festival. Her one-act play Shizzy's Story was produced by Enrichment Works and toured across LAUSD schools. She was a member of Playground LA, a 10 minute play collective, for which her piece This is a Banana was selected for Season 6.  Her storytelling can be heard on the Moth Radio Hour.

Allison Merkel is a writer and performer based in Brooklyn, NY. In her playwriting, she is particularly interested in exploring themes of adolescence, shame, resistance to change, and grief. Her work has most recently been seen at the StageFemmes One Acts Festival in Ohio, and she is currently developing a short play with the Women's Work Project at New Perspectives Theatre Company in New York City. Beyond writing for the stage, Allison's comedic writing has been featured in Points in Case, The Belladonna, and Edutopia, her political research has been published by The Yale Review of International Studies and the Brookings Institution, and she has written and produced episodes of the podcast Many Roads to Here. Last summer, she fact-checked a historical fiction novel set at the Aramco Oil residential camp. Allison also acts (favorite credits include #7 in The Wolves and Amina in Dance Nation) and has performed comedy with various improv and sketch groups in Ohio, New York, D.C., and Oregon. Allison graduated from Kenyon College in 2020 with a degree in Political Science.
Alyssa Haddad (she/her) is a Brooklyn-based, award-winning playwright and educator of Lebanese and Italian descent. Her plays have been presented throughout the Tri-State area. She was a 2019 Artist-In-Residence and Guest Lecturer at Adams State University's Rare AIR program. A 2019-2020 artist-in-residence at Art House Productions INKubator Play Lab and a writer at the Workshop Theater's Winter 2021 Intensive. She is a winner of the Athena Project Plays in Progress 2021 series, a 2021 Bay Area Playwrights Festival Semi-Finalist, and a 2021 Finalist for The Playwrights Realm's Writing Fellowship and Youngblood EST. She has taught writing workshops with Art House Productions, Circle World Arts, and In Full Color Productions. She holds a BA in History and Writing from The College of Saint Rose and an MFA in Dramatic Writing from NYU Tisch School of the Arts. She is a proud member of the Dramatists Guild of America. More at alyssahaddad.com

Bonnie Antosh (she/her) is a playwright and screenwriter from both Carolinas & New York. Her plays include LEMURIA (Ensemble Studio Theatre's First Light Festival, NY Classical's New Visions ), CLUCK DELUXE (City Theatre Miami, Samuel French Off Off Broadway Short Play Festival winner), THE WILDERNESS NEEDS YOUR WHOLE ATTENTION (Rule of 7×7, OdysseyStage), & I TOLD YOU IT WOULD END LIKE THIS (Shakespeare's New Contemporaries semi-finalist, co-written with Avery Deutsch). She studied theater at Yale, where she received both the Louis Sudler Prize and the Shana Alexander Research Fellowship in Women's, Gender, and Sexuality Studies. Her work as an actress includes seasons with Hudson Valley Shakespeare Festival, Shakespeare on the Sound, and Nebraska Shakespeare. Bonnie is a '20-'21 EST/Sloan commission recipient and a member of The Road's Under Construction '22 Cohort. She writes and lives in Asheville, NC. BonnieAAntosh.com

Charlie O'Leary is an alumnus of the 24 Hour Plays: Nationals, the Advanced BMI Workshop, the Brooklyn Generator, Crashbox Theatre Company's Write Play Launch, the Fornés Playwriting Workshop, and Project Y Playwrights Group. His plays have additionally been developed and presented by the Artist Co-op, the Dare Tactic, Dartmouth College, Dixon Place, Dreamwell Theatre, the Flea Theater, the Fresh Fruit Festival, the Habitat, the Iowa New Play Festival, Jersey City Theater Center, Loading Dock Theatre, Middle Voice at Rattlestick Playwrights Theater, the PIT, Pipeline Theatre Company, the Samuel French OOB Festival, Shuga Pie Supreme, the Tank, and the University of Notre Dame. His short works have been published by Methuen Drama and Theatre Now New York, with licensing by Music Theatre International. He has been a finalist for the Alliance/Kendeda National Graduate Playwriting Competition, the DVRF Playwrights Program, Sanguine Theatre Company's Project Playwright, the Woodward/Newman Drama Award, and two-time finalist for the Seven Devils Playwrights Conference; a semifinalist for the Ars Nova Play Group and three-time semifinalist for the O'Neill National Playwrights Conference; and recipient of an Iowa Arts Fellowship and a New York Innovative Theatre Award. His song "A Date" (music by Helen Park) was a selection of the BMI Workshop Smoker; his songs have also been performed at places like 54 Below, Don't Tell Mama, the Duplex, and the West End Lounge. He is currently pursuing his MFA at Iowa Playwrights Workshop.

Hannah Manikowski is a Georgia-born, Los Angeles-based writer who holds a BFA in Directing from the School of Drama at Carnegie Mellon University. Across mediums, Hannah's priority as a storyteller is excavating the magical within the mundane and the mundane within the magical. As a playwright, among other honors, Hannah has been named both an O'Neill finalist and the winner of the Judith Barlow Prize. She's a proud alumna of The 24 Hour Plays: Nationals and the inaugural Tepper Semester Playwriting Program, where she studied under Broadway-produced playwright, Antoinette Nwandu. Her play, The Sunrise from the Moon has enjoyed readings/development through both San Francisco Playhouse and Caltech x Pasadena Playhouse's MACH 33 Festival. Compensation, meanwhile, received its professional world premiere in 2021 at Island City Stage in Fort Lauderdale. Critics called the script "effectively lacerating," hailing that "every emotion associated with pregnancy and pending parenthood is present in the 95 minutes of Hannah Manikowski's smart and promising play."
In addition to theatre, Hannah holds a deep love for the rich narrative potential present in games. She works as the Associate Producer of Writing within Blizzard Entertainment's Story and Franchise Development department, where she has the privilege of providing cross-team support to all writing projects in the pipeline. As evidenced by her headshot, Hannah's less marketable passion is volunteering in the niche but alarmingly intense world of domestic rabbit rescue. Maybe one day, she'll write a play about that.

Jason Gray Platt's work has been produced and developed around the country by Actors Theatre of Louisville, Denver Center Theatre Company, Round House Theater, The Playwrights' Center, TheatreWorks, The Playwrights Realm, and Red Bull Theater, among others. He has been in residence at the Folger Shakespeare Library, Yaddo, and MacDowell, and was a core writer at The Playwrights' Center. He received the 2019 James Stevenson Award from Playing on Air. Originally from Arizona, Jason now lives in Los Angeles. BA: Vassar; MFA: Columbia. Member of Woodshed Collective

Jessica Durdock Moreno is an award-winning playwright, actress, and producer. Full length productions include the premiere of her play "To Richard!" at the 2019 Hollywood Fringe Festival (WON: Encore Producers Award; NOMINATED: Inkwell Theater Playwright's Promise Award), and the 2021 premiere of her play "Georgie D." at the Chain Theatre in New York. Her work has been presented by TEDx Asbury Park, the Full Circle Theatre Collaborative's New Works Festival, the Boston Theater Marathon, the NYU Tisch Bespoke Play Zoom Festival, and the NYU Tisch Critical Response Process Workshop. She has published plays with Smith and Kraus, and also some scripts literary magazine. She has developed work with the Chain Theatre Playwriting Lab and the Workshop Theater. She was a finalist for the Theater Masters Take Ten 2020 Festival, and a semifinalist for the Athena Project's 2020 Plays in Progress Series. She received her MFA in Dramatic Writing from New York University Tisch School of the Arts in 2021, where she was the recipient of the John Golden Playwriting Prize, awarded by the MFA faculty. She graduated magna cum laude with departmental honors from Columbia University, where she received a B.A. in Socio-Cultural Anthropology. She won the Los Angeles City College 2019 Cinema and Television Department's Best Screenplay Award. She is currently in residence with the Echo Theater Company's Los Angeles Young Playwrights program, and she is a member of Liz Lerman's 2022 Critical Response Process Certification cohort. In the spring of 2022, Jessica will again present work with TEDx Asbury Park and the Boston Theater Marathon.

Kaela Mei-Shing Garvin (they/she) is a writer, producer, performer, and educator. Plays include Tiger Beat (2021 Bay Area Playwrights Festival, 2021 Seven Devils Conference finalist), Harpers Ferry 2019 (2021 Kendeda Playwriting Award finalist), Call Out Culture: or, the unbearable whiteness of being (2021 NADIA Amplified Currents Festival, 2019 Ars Nova's ANTFest), and The Well-Tempered Clavier (2020 BAPF finalist.) Garvin is the recipient of six Kennedy Center awards and is a member of The Coop's Clusterf**k, Playground NY, and Pipeline Theater Company's Playlab. Kaela's plays have been developed with The Alliance Theater, Montana Repertory Theater, and College of the Holy Cross, and have been produced at New York venues including Dixon Place, the New Ohio, and Ars Nova. Garvin is the BAPF Season 45 Play Selection Advisor and a founding member of Undiscovered Countries, a Brooklyn-based incubator of new interdisciplinary art. Kaela currently teaches playwriting at Cornish College of the Arts. MFA, Indiana University; BFA, NYU. www.kaelameishinggarvin.com / @kaemeishing on IG, twitter

Kenjiro Lee (he/him) is a Korean-Japanese American playwright, puppeteer, director and occasional performer. He is a graduate of the University of Chicago (A.B. '20) where he majored in Political Science and minored in Theater and Performance Studies, and is an alum of the Powerhouse Theater Training Program and the National Theater Institute. His play MOMENTS: A Guide to Casual Living ft. Jin and Julie was produced by Paper Kraine Productions in October 2021. Kenjiro performed his own virtual play PRIMAL (a monologue for our times) as part of the Beyond Pomp and Circumstance initiative at the Smart Museum of Art in Chicago. He was previously playwright-in-residence for the Citadel of Playwrights, where he developed his plays Ninja Tea and Seoul City Sue, and was a participant in The 24 Hour Plays: Nationals in July 2021. Kenjiro is most interested in using theater to examine the absurdities of everyday life, and explore what art can say to its audience without the limitations of a fourth wall. He was born and raised in New Jersey, but is primarily based in New York. kenjirolee.com | @kenjiromakestheater on Instagram
A seasoned director, Laura Stribling, has directed more than seventy-five productions, workshops, and readings. Some selected titles include Henry IV, Part 1, Orpheus Descending, The Fattest Man in the World Lives Upstairs, Hedda Gabler. She has always had a special interest in new play development. Laura began writing a few years ago while teaching theatre to high school students and couldn't find material for them that interested her. So, she wrote a play called Face in the Crowd, a collection of stories based on her student's lives. Excerpts from this were performed at the Pasadena Playhouse, for several hundred people when her class opened for Ozomotli, as part of a fund-raiser for their diversity programing. Other selections were also performed at the Playhouse's High School Theatre Festival. Turning her hand to writing for grown-up. Laura had two monologues produced as part of InkFest, 2Cent Theatre's women's playwright development festival in 2015. These included National Zoo, a play about a man who discovers his soul mate is a Low Land Mountain Gorilla, and Celestial, about a fundamentalist Mormon who must choose between faith, conformity, and living her truth. An early version of Imitation of Falling (what now makes up most of Act 2), was performed at InkFest in 2016. She also wrote Primary Language, which was the festival feature at InkFest in 2017. Her play, If I Fell, was also performed at Inkfest and the Hollywood Fringe Festival.
Laura has a Master's of Fine Arts in Directing from the Yale School of Drama, where she was a Patricia Botkin Scholar, and a Fox Foundation Research Fellow.

Lia Romeo is a playwriting fellow at Juilliard. Her play The Forest was developed at the O'Neill Playwrights Conference, and was scheduled to receive a NNPN rolling world premiere in 2020 (canceled due to the coronavirus); it premiered at New Jersey Rep this season. This and three of her other plays have been recognized by the Kilroys List. Her play for Zoom, Sitting and Talking, featuring TV and Broadway veterans Dan Lauria and Wendie Malick, has been featured at Mile Square Theatre, Laguna Playhouse, Seven Devils Playwrights Conference, Durango PlayFest, New Jersey Rep, and elsewhere. Other plays have been produced off-Broadway at 59E59 and regionally around the country. She was the 2019 winner of City Theatre's National Short Playwriting Award, and was an Individual Artist Fellowship winner in playwriting from the New Jersey State Council for the Arts. She has been nominated for the New York Innovative Theatre Award for outstanding full-length script, the Kesselring Prize, and the Wasserstein Award, among other honors. Her plays are published by Broadway Play Publishing, Playscripts, Dramatists Play Service, and Smith & Kraus. She is also the author of a novel, Dating the Devil (BelleBooks), and a humor book, 11,002 Things to Be Miserable About (Abrams Image), which has sold over 35,000 copies. She teaches playwriting for Primary Stages/ESPA and the M.A. program in creative writing at Fairleigh Dickinson University.

Mak Shealy (she/they) is a writer, performer, and director based in LA and NYC. As an artist, Mak is committed to making abundant space for nuanced queer stories and continuing to create work that implicates and educates.
Mak is a Samuel French OOB Top-30 finalist, an Orchard Project Finalist, RAVE Theatre festival finalist, and 2021 OnWomen's Festival MainStage Selection at Irondale. Mak has been commissioned by Kervigo Ensemble Theater, 7×7 at The Tank and The Balcony Arts; they've created original immersive plays for The Cell Theater and Wonder Media Network and developed a full-length queer love epic with Original Idiots as part of The Generator.
Their feature film, Bethlehem Slutbag, is in pre-production and they most recently directed and produced a surrealist short More Than One Good Way To Drown. Later this year, Mak will lend their voice as a contributing writer to an Anthology Film: Queering American Suburbia. Mak was also a featured guest lecturer at Union College on writing nuanced queer characters without perpetuating queer trauma.
Select performance credits Off-Broadway: The Cooping Theory 1969 (Poseidon Theatre Company), Professor Brenner (HERE Arts Center), The Jersey Devil Doesn't Exist (The Shrill Collective); TV: LOVE LIFE (HBO).
IG: @makattackssnacks
www.makwashere.org
NYU Tisch BFA.
Ring of Keys Member; Dramatist Guild Member.

Marcus Scott is a playwright, musical theatre writer & journalist. Selected works: "Tumbleweed" (finalist for the 2017 Bay Area Playwrights Festival and the 2017 Festival of New American Plays at Austin Playhouse; semi-finalist for 2022 Blue Ink Playwriting Award and the 2017 New Dramatists Princess Grace Fellowship Award), "Sibling Rivalries" (finalist for the 2021 Seven Devils Playwrights Conference and the 2021 ATHE-KCACTF Judith Royer Excellence in Playwriting Award; semi-finalist for 2021 Blue Ink Playwriting Award and the 2021 New Dramatists Princess Grace Fellowship Award) and "Cherry Bomb" (New York Theatre Barn New Works Series; recipient of the 2017 Drama League First Stage Artist-In-Residence). He was commissioned by Heartbeat Opera to adapt Beethoven's "Fidelio" (Librettist/Co-writer; The Met Museum, Mondavi Center; NY Times Critic's Pick and scored "Highbrow and brilliant" by New York Magazine's Approval Matrix). Residencies & retreats: Works & Process LaunchPAD "Process as Destination" Residency at the Guggenheim, Prospect Musical Theater Lab, JACK Governor's Island Artist Residency, Catwalk Artist Residency, Gingold Theatre Group Speaker's Corner Writer, Liberation Theatre Company's Playwriting Residency Fellowship, Athena Theatre Company's Athena Writes Playwriting Fellowship and Fresh Ground Pepper Artist-In-Residence BRB Retreat. Scott is a 2021 NYSAF Founders' Award finalist and a 2021 Doric Wilson Independent Playwright Award semi-finalist. His articles appeared in Architectural Digest, Time Out New York, American Theatre Magazine, Playbill, Elle, Out, Essence, The Brooklyn Rail, among others. MFA: NYU Tisch School of the Arts.

MARJORIE MULLER is a Chicago-based playwright, actor, and producer. Marjorie's plays have appeared at Urbanite Theatre, The Women's Theatre Festival, Impostors Theatre Company, Avalanche Theatre, and Northwestern University (among others). Her work focuses on femme body stories in unlikely places. Marjorie is an alum of the acting program at the Theatre School at DePaul, Jackalope Theatre Playwright's Lab, and New Coordinates' Writer's Room. For more, visit marjoriemuller.com or find her on Instagram @idesofmarge.

Rafael Yglesias, born in 1954, is an American novelist and screenwriter.   He dropped out of high school to finish his first novel, Hide Fox, And All After, which was published in 1972.   Altogether he has had ten novels published, including A Happy Marriage, which won the Los Angeles Times Fiction Prize in 2010.   He adapted his seventh novel, Fearless, into a screenplay that was directed by Peter Weir and starred Jeff Bridges and Rosie Perez.   He has also written the scripts for four other produced films,  Death In The Maiden, Les Miserables, From Hell, and Dark Water.   He's worked as a writer and executive producer on several TV shows and is currently working on others with his wife, the novelist Ann Packer.  He was born and raised in New York City, where he has lived for most of his life.  He has two sons and three grandchildren.
Ryan Elliot Wilson is the author of the novel, Spiral Bound Brother: "Diabolically delightful and perversely moving, Wilson takes us on a chaotic, engaging and excruciating journey with his train-wreck team of protagonists whom we hate to love." Moira Walley-Beckett, Writer/Co-Executive Producer, Breaking Bad. Ryan's one-act play, Begin with Your Greatest Shame, was selected for the Shawnee Original Playwrights Short Play Festival in 2021. His short fiction has appeared in The Painted Bride Quarterly, Drift, and Thunderdome and has been included in the comedy anthology, Critically Acclaimed: Real Reviews, Fake Movies, and In Search of a City: Los Angeles in 1000 Words.  His feature script, adapted from his play, Yellow Wood, was a finalist for the Sundance Lab.
Born and raised in Missouri, Ryan went to the University of Miami for an MFA in scriptwriting and is a veteran English and Creative Writing teacher at Harvard-Westlake School in Los Angeles. When not listening for voices, Ryan loves cooking for his family, hiking through nature, and playing folk songs. Ryan is thrilled to be working on his new play, Alisha Firewind, with Under Construction at The Road Theatre.
Shannon TL Kearns is a transgender man, an ordained priest, and a believer in the power of stories. Selected recognition: Winner of the ScreenCraft Pitch competition, finalist for Bull City Film Festival for his pilot Transformed. Playwrights' Center Jerome Fellowship, a playwright in residence at the Inge House, Seven Devils' Playwright Conference, Lambda Literary Fellow, and a Finnovation Fellow. He was a semi-finalist for the O'Neill and a finalist for the Blue Ink playwriting award. Shannon's plays include Body+Blood, in a stand of dying trees, Line of Sight, Twisted Deaths, The Resistance of My Skin, and Who Has Eyes To See.

Shayne Eastin is a theatre maker from Los Angeles, California. Their immersive one-on-one zoom show "Out There" was performed for over 160 people during the 2020 pandemic. Shayne has written dozens of mini plays for "True Crime Night" at the Three Clubs in Hollywood as well as shows that have graced various stages across Los Angeles including "PoPalypt1c" and "h7". Her short play "Trouble for Miles" was recently turned into a film and has been making the rounds at international film festivals. Shayne is a member of Theatre of Note in Hollywood and can often be found writing live shows for Butcher Bird Studios and Secret Thing Productions.
Playwright Tira Palmquist is known for plays that merge the personal, the political and the poetic. Tira's current projects include The Body's Midnight, a play she worked on as the Featured Playwright at the 2021 Seven Devils New Play Conference and as the Travis Bogard Artist in Residence at the Tao House (Eugene O'Neill Foundation), and King Margaret, an adaptation of the Henry VI, which was featured in the 5 Directors, 5 Plays reading series produced by Oregon Shakespeare Festival in July 2021.
Her play The Way North was a Finalist for the O'Neill and an Honorable Mention for the 2019 Kilroys List, and was featured in the 2019 Ashland New Plays Festival (in addition to many other readings and festivals). Tira's other plays include Two Degrees (Denver Center, others), The Worth of Water (Clutch Productions), Safe Harbor (Lower Depth Theater Ensemble), Ten Mile Lake (Serenbe Playhouse), Age of Bees (NYU Stella Adler Studio, MadLab Theater, Tesseract), And Then They Fell (MadLab, Brimmer Street, New York Film Academy). Tira has also been commissioned to write new work for the UC Irvine graduate acting students: Hold Steady (2019),  All We Ever Wanted Was Everything (2020) and The Last Time We Saw Madison (2021).
UNDER CONSTRUCTION HISTORY

PRODUCTION TEAM:
Dramaturge – Jessica Broutt
Producer – Carlyle King
2019-2020 UNDER CONSTRUCTION PLAYWRIGHTS GROUP:
Steve Apostolina
Jami Brandli
Bernardo Cubría
Lisa Kenner Grissom
Cory Hinkle
Aja Houston
Velina Hasu Houston
Carlos Lacámara
Jennifer Maisel
Elizabeth Sampson
Jennie Webb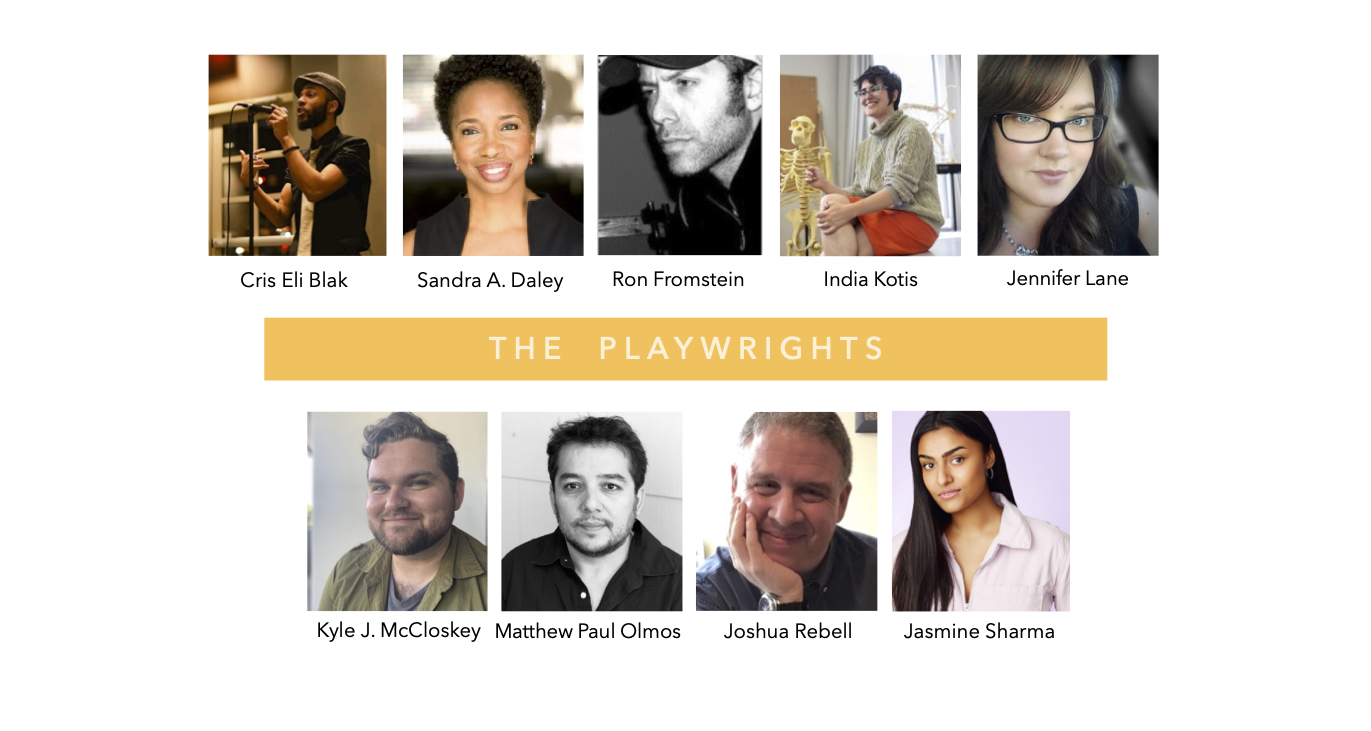 2020-2021 UNDER CONSTRUCTION PLAYWRIGHTS GROUP:
Cris Eli Blak
Sandra A. Daley
Ron Fromstein
India Kotis
Jennifer Lane
Kyle J. McCloskey
Matthew Paul Olmos
Joshua Rebell
Jasmine Sharma